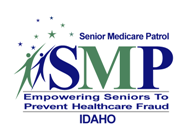 The Idaho Senior Medicare Patrol (SMP) program helps us prevent, detect and report health care fraud. The program relies on volunteers in our local communities to provide education and one-to-one counseling to help us protect our identity and identify other types of Medicare fraud:
Double-billing and overcharging
Unnecessary or inappropriate services
Additionally, there are education opportunities (Scam Jams) for consumers and the public to learn about other types of fraud:
Mail and telemarketing scams
Financial exploitation and identity theft
Computer and solicitation scams
We can use the area map below to find the nearest provider to us. Also to the right, "Quick Tips" and "Resources" are available to better assist us with finding reliable information and supports.
Become an SMP Volunteer!– Learn more about Medicare fraud, share what you know and help others. Contact the Volunteer Coordinator nearest to you for information.
---
New Medicare Cards Are Being Issued- Advocates are warning about callers who are try to dupe people. Click here to read more.
Find Nearby Services
Aging Education Gateway
COMING SOON!! Learn how to age successfully by engaging in ICOA's free, self-paced interactive learning. These quick, information-packed courses bring the understanding & techniques you need. Topics include a variety of age-related information including adult protection, dementia, respite, nutrition, health promotion, caregiver support & more! Click to go to the Gateway & begin your journey!